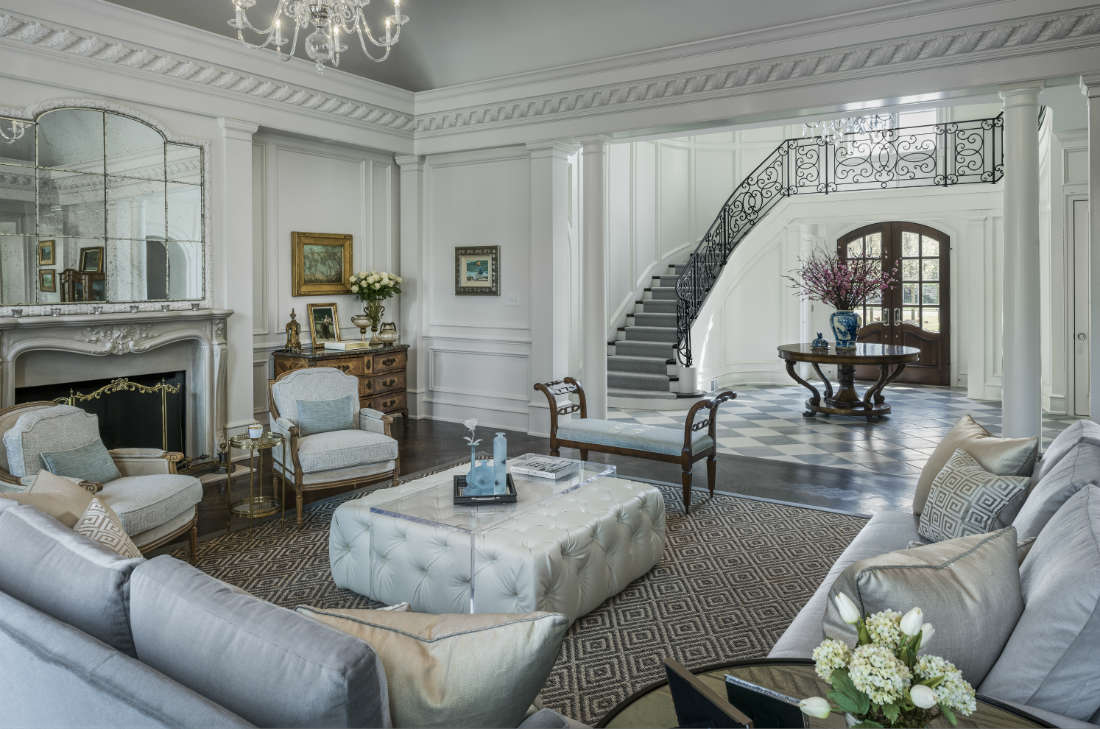 Modern-Traditional is a term that I would love to say we coined to describe our work, but I am not sure I can get away with that.
I have no idea where it comes from but we always describe our style in this way.
The Meadowbank Definition of Modern-Traditional:
The use of historic and traditional design elements of any kind, that are reinvented in a fresh, modern approach through various means.
This sounds pretty broad but I will do my best to show you some examples if you keep reading.
For our work on the Main Line area and its surroundings, most of the homes we design range from very classic and stately architectural styles of the area from European-inspired architecture of the Industrial era, to charming farmhouses and agrarian properties in the rolling hills of Chester County and beyond. Sounds pretty, right?
A lot of people come to us with these spectacularly beautiful properties, and they feel pressure.
Pressure to make it feel more current, make it feel like "them" and not what is just "expected", pressure to not screw up the architecture or make a bad investment, pressure to use their beloved antiques or art collections but not sure how to achieve those other goals I mentioned.
This is where the use of "Modern-Traditional" comes in. Modern Traditional is one of those things where we can use the traditional, architectural envelope of a home, and reinterpret elements that are typically used in a traditional setting.
This includes window treatments, furnishings, patterning, color and scale. We can tweak them or combine them in subtle ways (or sometimes bold, overt ways), to where the viewer experiences the space in a way that has been described like this:
"When I look at this room it somehow doesn't feel traditional, but when I look further I see traditional things. They somehow feel modern, but not overtly modern—how do you do that?"
Let's take this living room from one of our projects and break it down.
The exterior of this home is a formal French Norman Style of architecture. The interiors are formal in their scale and traditional in their millwork and detailing.
The traditional choice would have been to use heavily painted woodwork or paint detailing. But instead, the more modern and "clean" choice of white was used to lighten and brighten the space.
This also goes for the color and pattern choices of the fabrics on the furnishings. You will see an antique bench and traditional Bergere chair in the foreground (fun fact: Bergere is a fancy word for a French armchair that is upholstered on the sides instead of having open-frame arms).
These pieces were covered in contemporary, solid fabric choices rather than the expected, traditional choice of fabrics that would have been historically applied to this style of furniture.
When we look closer at the bar, the modern "Waterfall" treatment for the marble countertops and more transitional bar stools immediately counteracts the traditional architecture of this area instead of using the "expected" and "safe" traditional millwork elements.
Additionally, the contrast of the stained wood in that area lends a chic and rich counterpoint to the room, and also adds a warm tone to offset the cooler colors of the room.
And of course, you can't ignore the sleek lucite cocktail table and tufted ottoman in the center of the seating area.
The "safe" choice would have been to do a traditionally styled cocktail table to go with the formal arrangement, but this clearly thrust the entire room into the modern-day.
It also speaks to the lifestyle that these clients wanted, which was modern-traditional elegance without all of the fuss and gilding that a formal French home might have.
Another example of Modern-Traditional is this home office we created for a client
She needed a room where could have her own quiet space to work.
So, what in this room constitutes our version of Modern-Traditional?
Well, they mentioned things like this in the A Well-Designed Business® Podcast Instagram Live episode.
For one, we used a more traditional style of window treatment, but in a very simple, neutral fabric.
If this was a heavy, embellished, old-world patterned fabric, it would have looked like Queen Victoria rode through in her carriage.
Another example is the flocked velvet wallcovering that was used.
Flocking has been around for centuries, and yet here we are in the 21st century, making it in all kinds of interesting patterns. This is not your grandmother's floral wallcovering!
We mixed in a traditional Campaign-style desk and a traditional frame and leg on the upholstered chaise, but in a fun yet sumptuous animal print epingle velvet.
Epingle is a construction method for velvets where they don't cut all of the fibers. The cutting is what gives velvet the nap that stands up and we all love to rub out hands through—or maybe it's just us designers who love doing that?
We kept the carpet soft and smooth to offset the busier patterns on the walls and chaise, to keep the balance of the "cool" factor in this room.
Voila….a Modern-Traditional room!
I could go on pointing out examples of what Modern-Traditional looks like, but I am signing off to watch another episode of The Politician on Netflix. If you haven't watched it, you should. The interiors alone are worth watching for, not to mention Gwyneth Paltrow's wardrobe in the show is gorgeous.
Contact us to find out how we can transform any room into a Modern-Traditional space!
P.S. Below is the video on the A Well-Designed Business® Podcast IG Live show! So fun to hear our name out there. We are blushing!