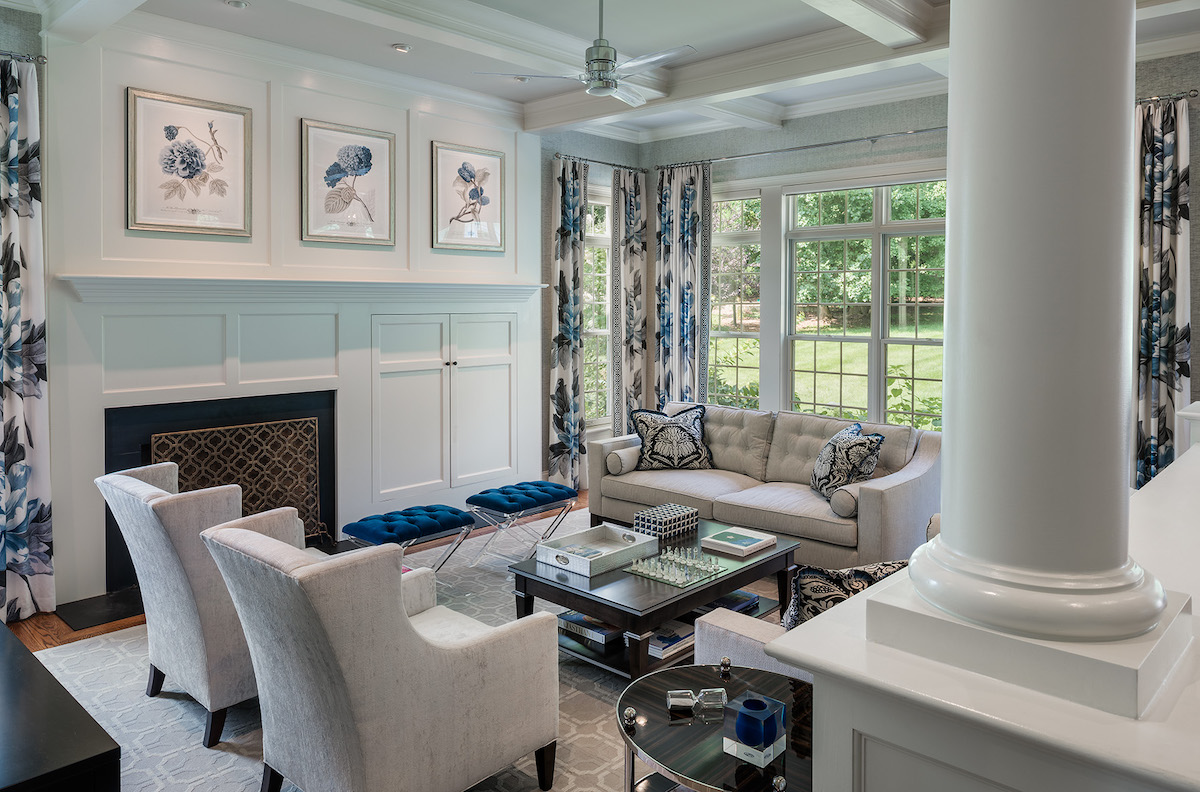 In over three decades of working with our Main Line interior design clients, Laura and I find it so interesting that one of the things that always blows them away is how we get their designs so right.
Most of them say things like, "Wow! You completely captured our style!" and "How did you know that's exactly what we wanted?!"
While it may seem like just a happy accident, getting our clients' designs right actually happens through a combination of our seasoned experience, great communication skills, and intentional processes.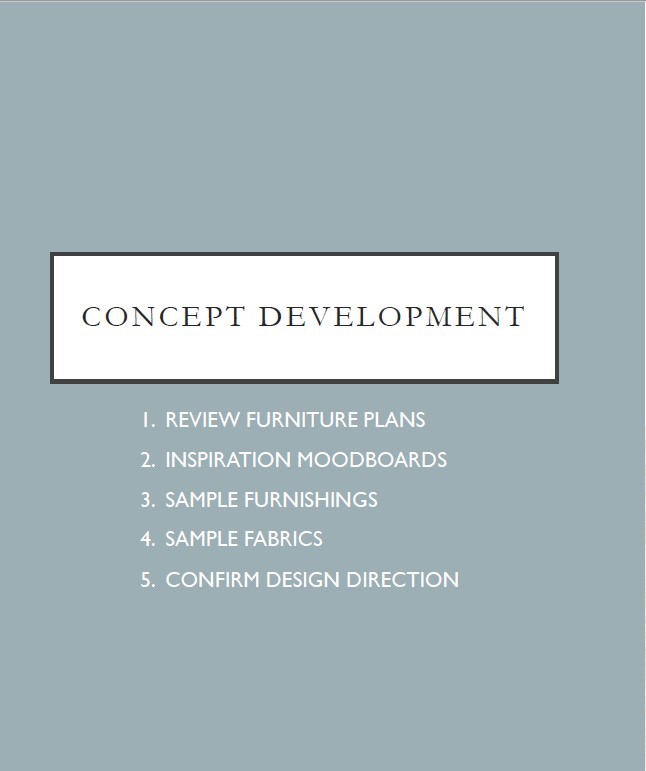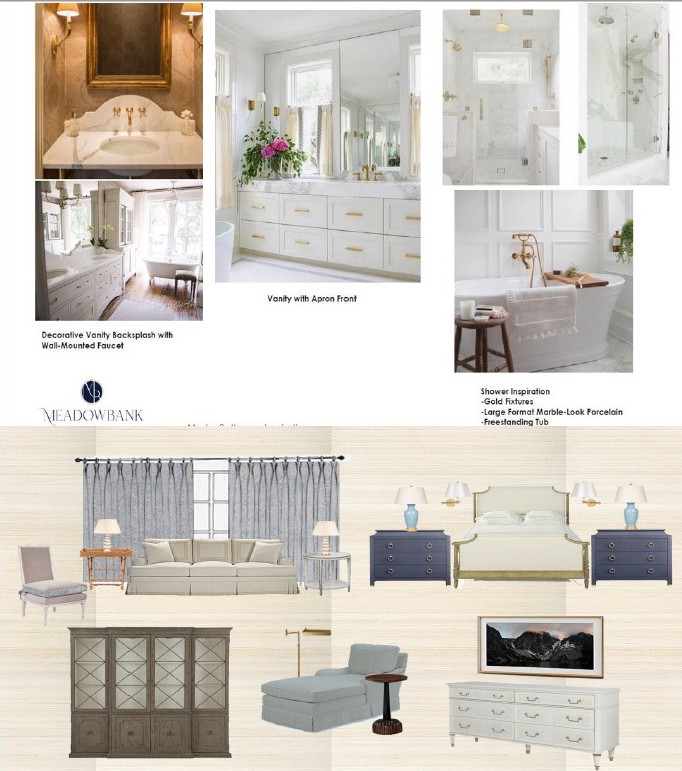 In particular, we're firm believers that our Concept Development phase—and the Design Concept we create for the client in that phase—makes all the difference in being able to discern the nuances of what's going to resonate with that client.
Essentially, this allows us to take the time BEFORE launching into the work of actually designing your spaces to first set a clear direction for the design.
It takes a lot (and I mean A LOT!) of time and staff resources to create a Detailed Design and it just wouldn't make sense to ask our clients to sink that much into their project so early on before we've fully uncovered exactly what's going to resonate with them.
The Design Concept itself is a game-changer for helping us get to know the clients on a deeper level.
It also lets them relax knowing we're not going to go off on a tangent and end up giving them a design that's completely off the mark of what they're looking for.
Since this approach is a little different than what you may expect from working with an interior designer, let's take a peek at what a Design Concept looks like and how it's different from an actual finished design.
What the Design Concept Isn't
The biggest thing you need to understand about the Design Concept is that it isn't a finished design.
We aren't showing you the finalized item selections at the Concept Development meeting. You won't be seeing the actual wallpaper for your dining room or the fabric we're proposing to use for your sofa pillows.
Those specifics take infinitely more time to bring together into a cohesive, thoughtful, well-designed plan than just the couple of weeks of work we invest into your Design Concept.
While we understand you're excited to see your finished design, it's important to realize that it really does take time to achieve the unique, richly layered, beautifully appointed spaces our Main Line homeowner clients are looking for.
The Design Concept comes first, and then we build upon it (along with any tweaks we make based on your feedback) to create the Detailed Design, which ultimately consists of a beautiful room montage with all our 'first choice' selections for your project, a tray of samples, tear sheets, and (depending on the project) a room rendering.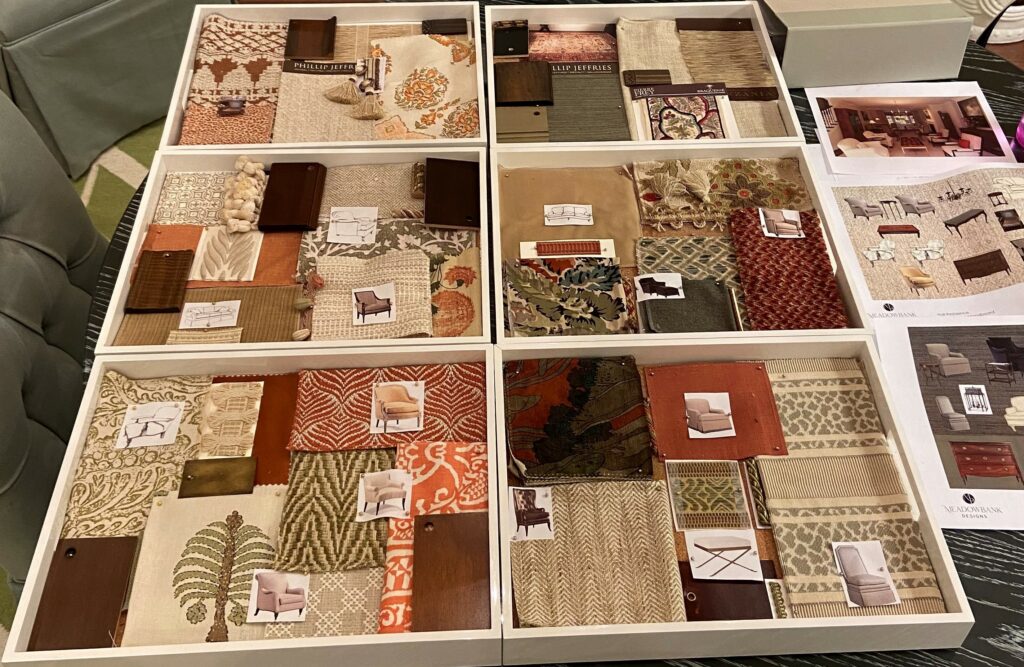 This is a small part of what a typical finished Detailed Design plan could look like for a family room and den. These are specific items we've picked for the project as our 'first choice' selections.
The Conceptual Design phase is all about slowing things down and being intentional with our communication with you at this early stage in order for us to get it right in the end.
The Design Concept is how we build a solid foundation for your room's design, ensuring what we create for you will live up to its fullest potential.
There are simply no shortcuts to good design.
What the Design Concept Is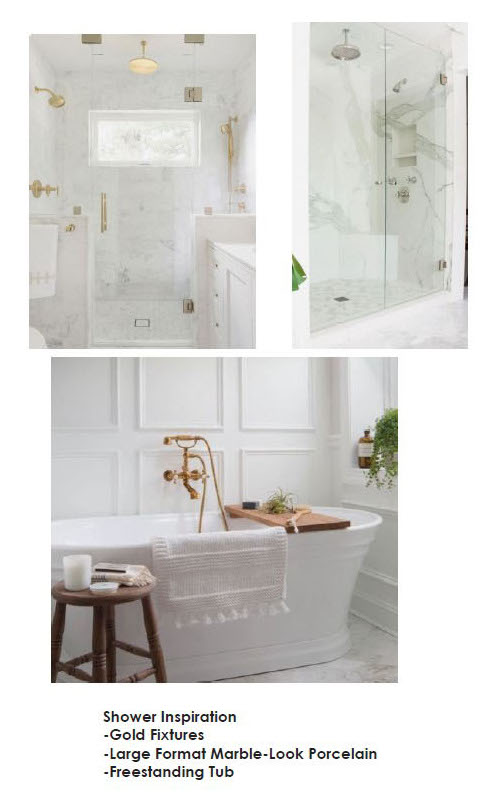 This is what part of a typical Design Concept for a bathroom might look like. Note: The items shown have not been chosen for the project yet–they're just inspiration images to communicate an overall idea, style, feel, or finish.
The intention is to show you visuals that drive deeper conversation between us about what you love and what you don't, what resonates with you and what falls flat.
We've found over the years that this step is crucial for two key reasons:
1. It allows us to flush out in even greater detail what the client loves and what they don't.
In one case, a client realized upon seeing the Design Concept that she'd neglected to tell us she isn't big on polka dots and, though not literal, one of the patterns we were considering had a definite polka-dotted feel.
As you can imagine, we were all happy to have caught that before moving forward with her design selections.
2. There are always multiple different approaches we could potentially take.
The Design Concept allows us to see which way you prefer without a lot of costly work involved.
Take, for example, our client who asked that their space be Art Deco-inspired. By showing them the images below in their Design Concept, we elicited LOTS of conversation about budget, color, and details upfront before the real work of their design began.
Without the conversation these images inspired, what we did may not have been what the client had in mind.
Instead of potentially having to charge the client to create three different Detailed Designs until we landed on the right direction, we used the images in the Design Concept to drive a conversation that let us find the right direction, saving everyone time and saving the client money—while also creating a result that was closer to their vision.

The Design Concept ensures we can spend time fleshing out the direction that resonates with you.
We can further drill down into what you mean when you say you want or don't want something—which lets you know for certain our time and your money are being well spent.
There can be a lot of information in the conceptual design meeting, especially if your project involves multiple rooms. If you don't have a strong vision initially, we'll do some exercises where we show you images and fabric color and pattern combinations we think could work to see your reactions.
Sometimes we show cabinetry ideas or ideas for other enhancements we're considering. We may show you furniture styles (rounded curved lines vs. straighter lines, etc.).
No matter what we show you, our goal is to determine what you gravitate towards.
Why the Design Concept Works
The truth is, no matter how skilled a designer is, no one's a mind reader. Even with our questionnaire and an initial conversation or two about your likes and dislikes, important details about your preferences may not reveal themselves until we begin to move through your project. And that's okay.
The concept design phase is intended to reveal a deeper layer of detail once you've seen some images and ideas for your project:
You love the classic sofa's silhouette but not so much the button-tufting on the seat because it catches crumbs.
You told us you wanted your space to be 'bold and interesting' but some of these ideas are just a bit more colorful than you're comfortable with.
You know you said you like floral prints but now that you see these, you think maybe you'd prefer something more abstract.
You like these wallpaper pattern ideas, but you've also wondered about a mural wallcovering. Could that work instead?
Every bit of that feedback is like pure gold to us! Whether it tells us exactly what we need to know or acts as the springboard to further conversation, it's all guiding us toward pinpointing precisely the right selections for a design you'll love.
Even though the Design Concept isn't even realized yet, clients can get very excited about it, which is when we know we're really onto something special for them!
This is a step in our process that helps you feel confident knowing we're on the right track and excited to see what we're going to come up with next.
You leave that meeting with us knowing we have an even better, deeper understanding of what you like—we're 'getting' you. It's very reassuring for everyone.
After the conceptual design meeting, we continue communicating with you as we work to create the Detailed Design as ideas and additional questions arise.
If we get an idea about something we haven't discussed (for example, if you have a recessed light in your bath but we find a great pendant fixture that would be perfect) we'll come back to you and bounce the idea off of you before we just jump to including it in your design.
Or let's say you tasked us with coming up with an idea for a specific functionality or aesthetic requirement or request (such as a custom vanity with storage for your specific products or a bold idea for your shower tile).
Once we come up with an idea, we'll check with you first to respect your wishes and see if you're good with it.
Then over the next few weeks and months after the Conceptual Design phase, depending on the scope of your project, we'll begin to crystallize the design direction as we draw plans and elevations that show custom millwork, tile work, wall treatments, and lighting plans and order fabric and finish samples—right down to the finish on the toilet flusher!
All of the little details will come with the Detailed Design presentation with the goal that you'll be ready to move forward (with maybe a few tweaks) because we've laid that solid foundation earlier with the Design Concept step.
Because of this process, we haven't had a situation where a client hated the Detailed Design. I truly believe this is because nothing in that finalized design comes out of thin air. It's all based on conversations we've had with the client.
Of course, you may want to tweak something at that point, and we're happy to make revisions, but we aren't springing any surprises on you at the end.
You'll walk into the Detailed Design presentation excited to see how everything came together!
There's simply no substitute for baby-stepping into the design with our Design Concept for getting a deeper understanding of the client's preferences.
This is so important to us because, at the end of the day, we aren't looking to make you settle for whatever we pick for your design. This is about you and your home.
Our goal is to get to know you deeper and deeper over time through the intentional conversations we have with you through our processes. That way, we're able to give you a design that truly looks and feels like you.
We believe it's the very best way to give you highly personalized, beautifully designed spaces that resonate with you on a deep level—and it's always been the Meadowbank way!
Do you have a design project in mind for your home in the Main Line area? Contact us to learn more about how we can help.