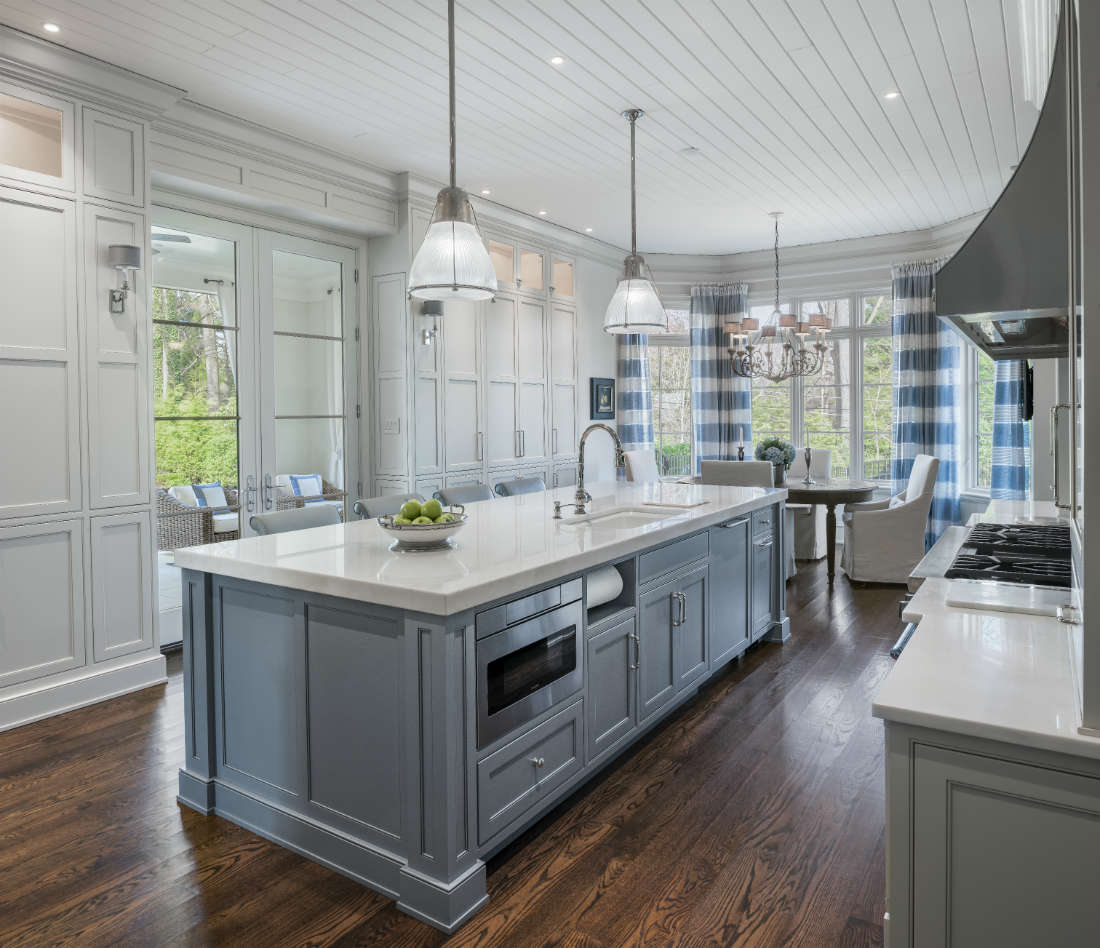 For many of our clients, the link between the way their homes are designed and their emotional well-being is natural.
It is the driving force behind finally pulling the trigger on that yoga room, golf simulator, or installing a squash court in the basement for the kids (yes, COVID-19 is spawning lots of creative solutions to boredom and family togetherness).
It seems obvious that a thoughtfully designed, personalized home can bring you ease, whereas a poorly planned home can bring on stress or unease. And while experts now agree that simply bringing greenery into a home or office can boost mood, other aspects aren't so apparent.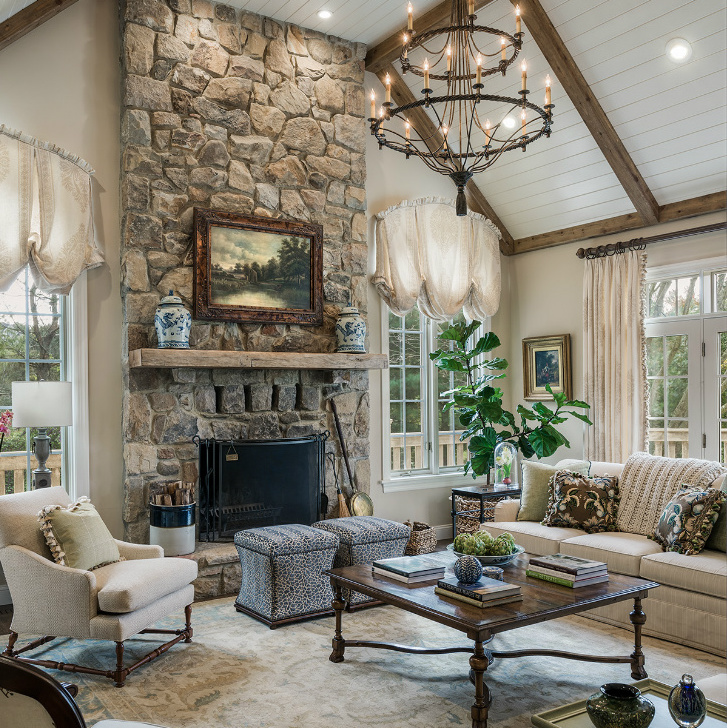 Interior design's connection to mental health is starting to gain interest and support, which means we are likely to see new insights in the future. This is exciting for us designers for sure (design nerd alert).
Laura and I have always worked closely with our clients to really figure out what makes them tick and what emotionally resonates with them in terms of the design and function of their homes.
These new findings are confirming some of what we have done all along and why it often feels so right when we can tune in to our client's real needs, versus just recreating a trendy picture from a Pinterest board (no shame in that—we are addicted to Pinterest too!)
I'll try not to get too nerdy here but for context: Neuroaesthetics was introduced in 2002 and is the study of how the mind processes and responds to beauty and art.
In a nutshell, according to Donald H. Ruggles, author of Beauty, Neuroscience & Architecture: Timeless Patterns and Their Impact on Our Well-Being, "beauty originates as an intuitive, emotional response in our ancient brain as the recognition of a pattern that has the potential for pleasure."
Speaking of pattern, who doesn't love an adorable dog wallpaper as "pattern that has the potential for pleasure"? And this picture of our client's mudroom also has an actual dog in it so, you're welcome.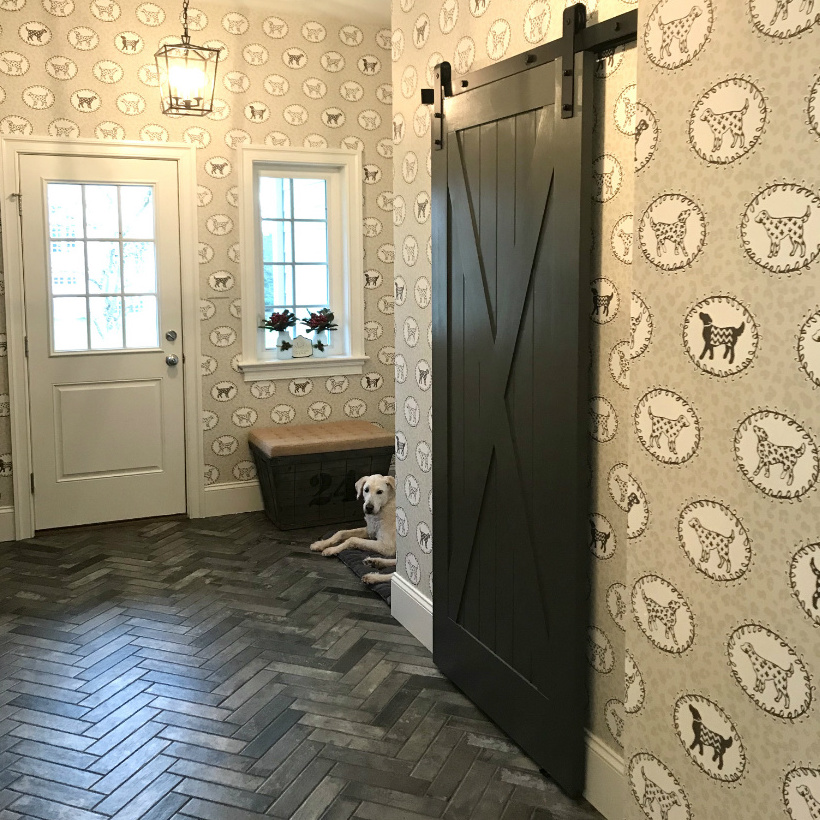 So what does that mean for your house?
Ruggles uses the term 'ancient brain' to describe the primal part of the brain that's responsible for survival instincts like fight-or-flight.
"If the pattern of a space is readily understandable, then the ancient brain signals that it is stress-free and approachable.

The result is an improved brain wave coherence—a physiological state very similar to a meditation session."

Donald H. Ruggles
For example, Ruggles theorizes that we are always subconsciously searching for things like symmetry, from a building facade to a fireplace mantel.
Our brains experience a recognition that translates to a feeling of calm—and when we don't find it, we feel stressed.
Jagged edges and sharp points are design features that, if overused, can cause anxiety. There is always a counterpoint to an argument and this is not true for everyone.
Symmetry in design can be calming in its familiarity, but asymmetrical accents can also surprise and delight (artwork or nature comes to mind).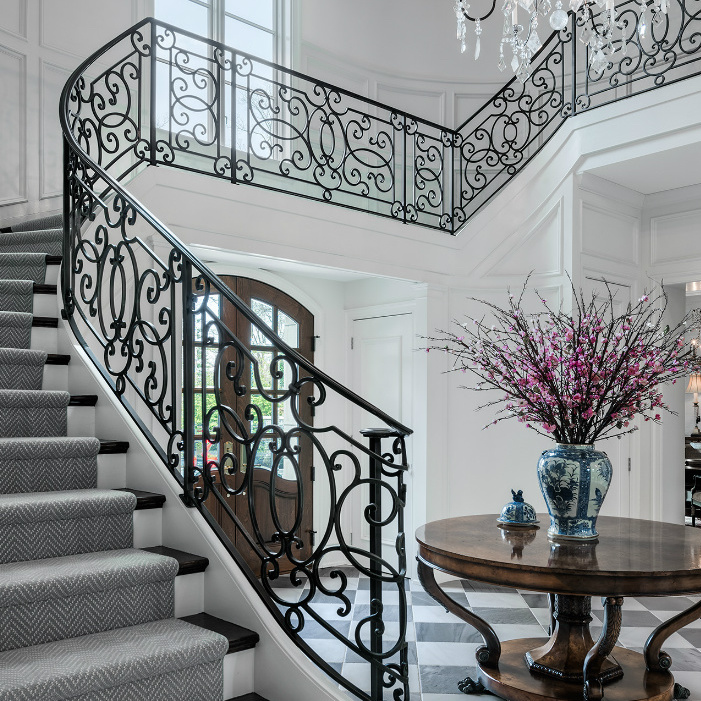 Introversion and extroversion are personality traits that tend to impact—and be heavily influenced by—design choices.
An open floor plan caters more to an extroverted person's penchant for stimulation, whereas an introvert, after a busy day, desires spaces for low-key activities like reading, quiet conversation, and calm.
Ideally, a home would help nurture both types of personalities, offering areas of engagement for the extrovert and areas of quiet for the introvert.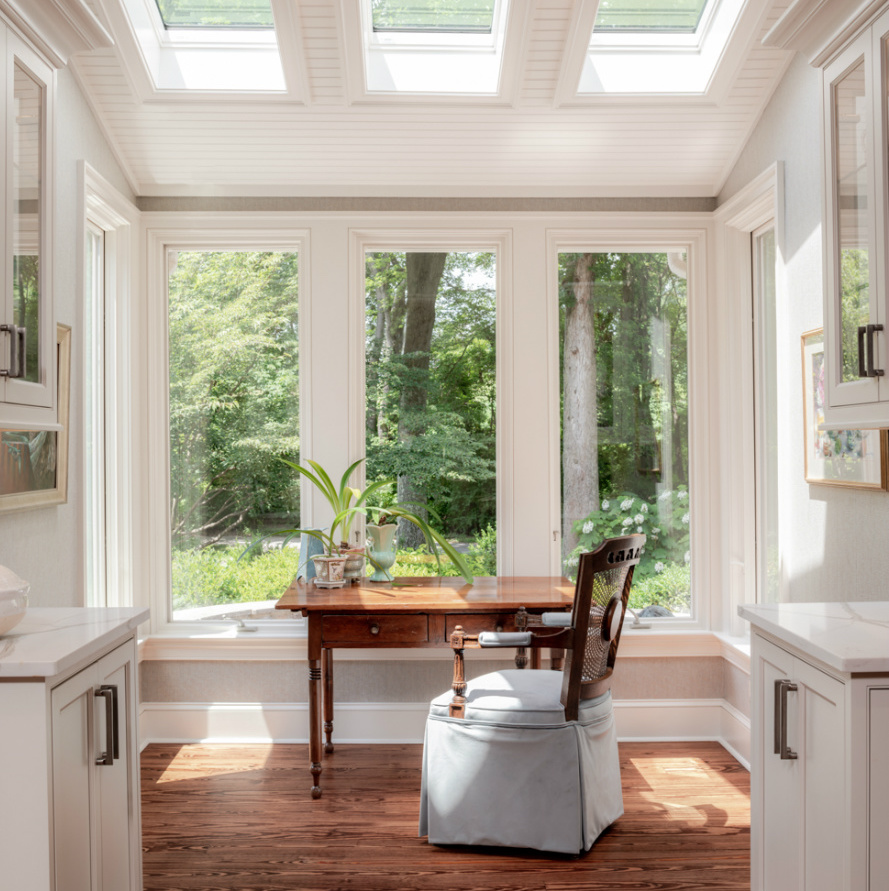 Using draperies, area rugs, comfy upholstery, even wallcoverings can go a long way in muffling the echo of an open plan home.
Another alternative to just painting a room is to upholster the walls. Even affordable wool flannel offers rich colors and textures. Fabric absorbs light and sound, creating a quiet, cozy atmosphere.
Introvert or extrovert, we can get on board with that!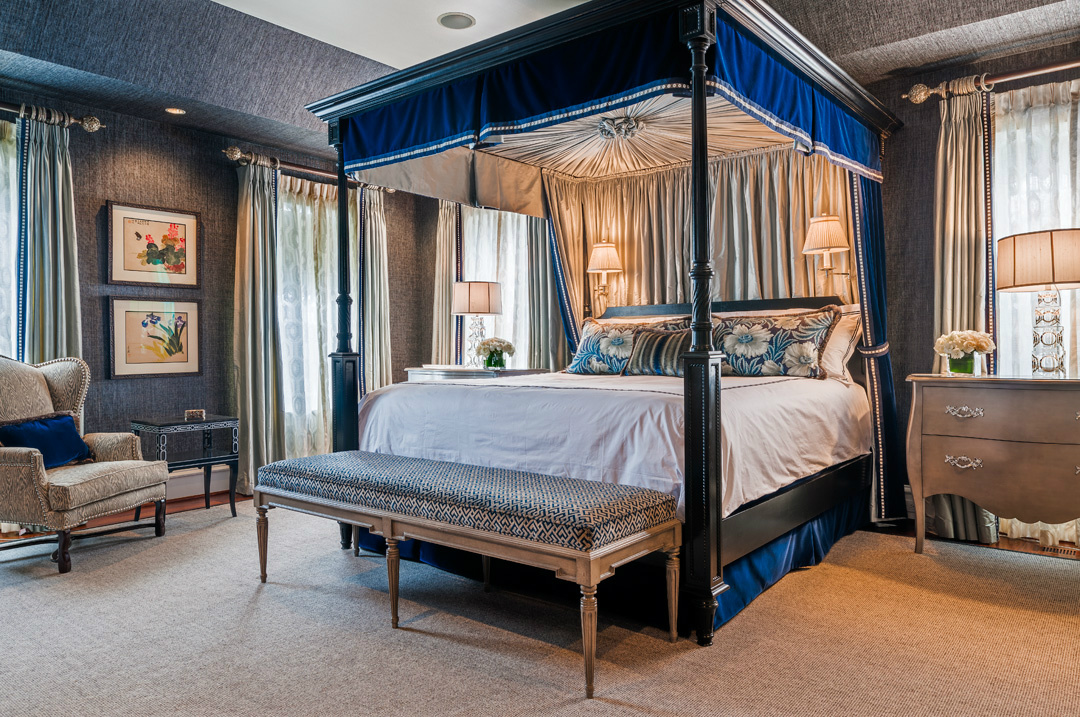 Our process ensures that an interior will fit the client's unique needs.
When we are building homes with clients of both personality types or family members with special needs, our process considers all design elements such as lighting, color, texture, sound, plumbing, furniture, cabinetry, entrances, and layout.
During our design process, we are also watching clients get excited and observe their body language.
We're looking for enthusiasm—that's when we know we've hit on something. We build on these cues in our conversations to guide clients to the right choice for them and sometimes make them think about things they never considered.
Do you like the feel of a lever faucet in your hand or a cross handle? If you use it every day shouldn't it feel good in your hand and also look good?
This tiny consideration can be just as important as the comfort of your sofa or the tone of your kitchen cabinets.
Does your child require certain controls over their environment? We may design custom cabinetry in his or her room to arrange all of their special treasures or Lego creations that never have to move out of sight. The list goes on and on.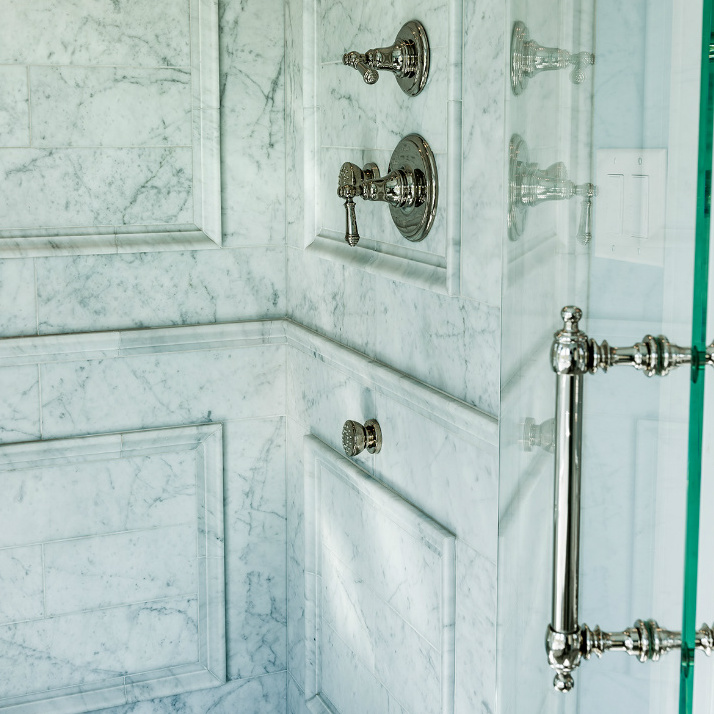 Here is one reason not to skip an artwork budget for your home:
According to an article by Business of Home,
"A home with thoughtfully curated art isn't just prettier—it's also better for you. Research by a neurobiologist at University College London in 2011 found that people viewing art experience a surge of the feel-good chemical dopamine, as well as activation in the same part of the brain associated with falling in love.

And a 2014 meta-analysis published in Brain and Cognition found that viewing paintings may support brain functions related to memory, decision-making, and emotional processing."

Hannah Hickock
Whaaatttt!? Why is my memory seemingly getting worse? That is probably a topic for another kind of blog.
When clients ask us to help select artwork for their homes, we try to help them find a balance between sound investments and works that bring them actual joy.
Installing art is a simple way to elevate well-being and connect you to your home. It can simply bring happiness and encourage new and different experiences.
A room does not feel truly "finished" until the art is up on the walls. I have said this many times before, but don't be afraid to go big on the size of your artwork!
It can bring an energy and scale to your space that is not possible with little pieces of art. Do you get the picture? (Sorry for the dad joke—it is unavoidable with me).
Check out Tory Burch's amazing former foyer designed by one of my favorite designers, Daniel Romualdez. It's not for everyone but whoa—talk about scale!
Love it or hate it, this foyer would not be the same with a "safe" little piece of art.
I could go on and on about the health benefits of lighting in a home but there is so much information on that topic that I will leave that for another blog post. But I do have one last simple piece of advice…
Adding your favorite color doesn't require major updates to a space.
Start with wall paint, and if that's too much of a commitment, try bringing in new colors through accessories and smaller art pieces.
It's a fun and simple way to work with color and energy in your home. Bedding, pillows, and artwork are a great option because you can change them out quickly, test different things, and see what works.
Just like any wellness routine, designing for mental health will never be a one-size-fits-all formula, but it can be a powerful tool if you use it right.
And now, after another long day in quarantine with my child, waiting for summer camps to open next week, I am going to go and pour a nice glass of mental health for myself. Cheers!
Contact us to learn more about how we can make your house your happy place.