We get a lot of calls from clients wanting to do a little facelift on their master bath.
It starts out as an innocent request, but what some people don't realize is that a "facelift" on a bath is not usually so simple.
Sometimes it can become an all-out gut job (usually best if you are willing to start fresh).
But oftentimes, a client will have just purchased a beautiful new home or older home where a previous owner or builder has installed a good quality product yet there are some finish choices that our client doesn't care for.
As we said, an innocent enough request, but all may not be what it seems. There are some things we have to consider when we are approached for a "facelift" in a bathroom.
1. Check to see if you have an existing radiant heated floor under your tile.
This requires a challenging removal that could damage the system if not done properly. It usually works out just fine, but you will want to hire a skilled contractor. 
This will add to the cost of taking up old tile, not to mention if you are reusing old vanities where the tile runs underneath – they too would need to be taken up to do a proper installation.
While this step can often be a big surprise to our clients and a big reason to consider a total gut job, the myriad of benefits of your beautiful new bathroom will be worth the cost of doing it right the first time.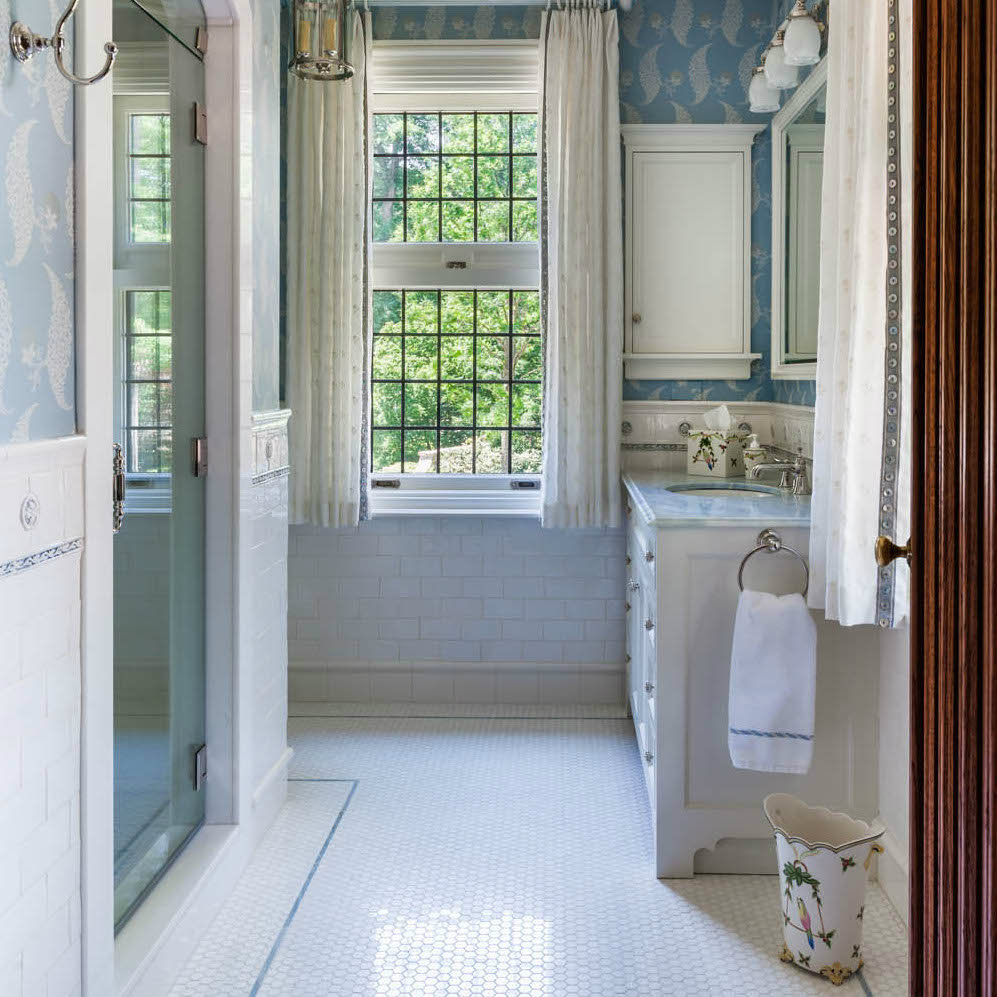 2. Consider the sheer amount of tile coverage in your bathroom.
Those gorgeous Pinterest pictures with tile wainscoting all over the room and floor to ceiling backsplashes look amazing, but all of this tile will increase your budget due to labor and material costs.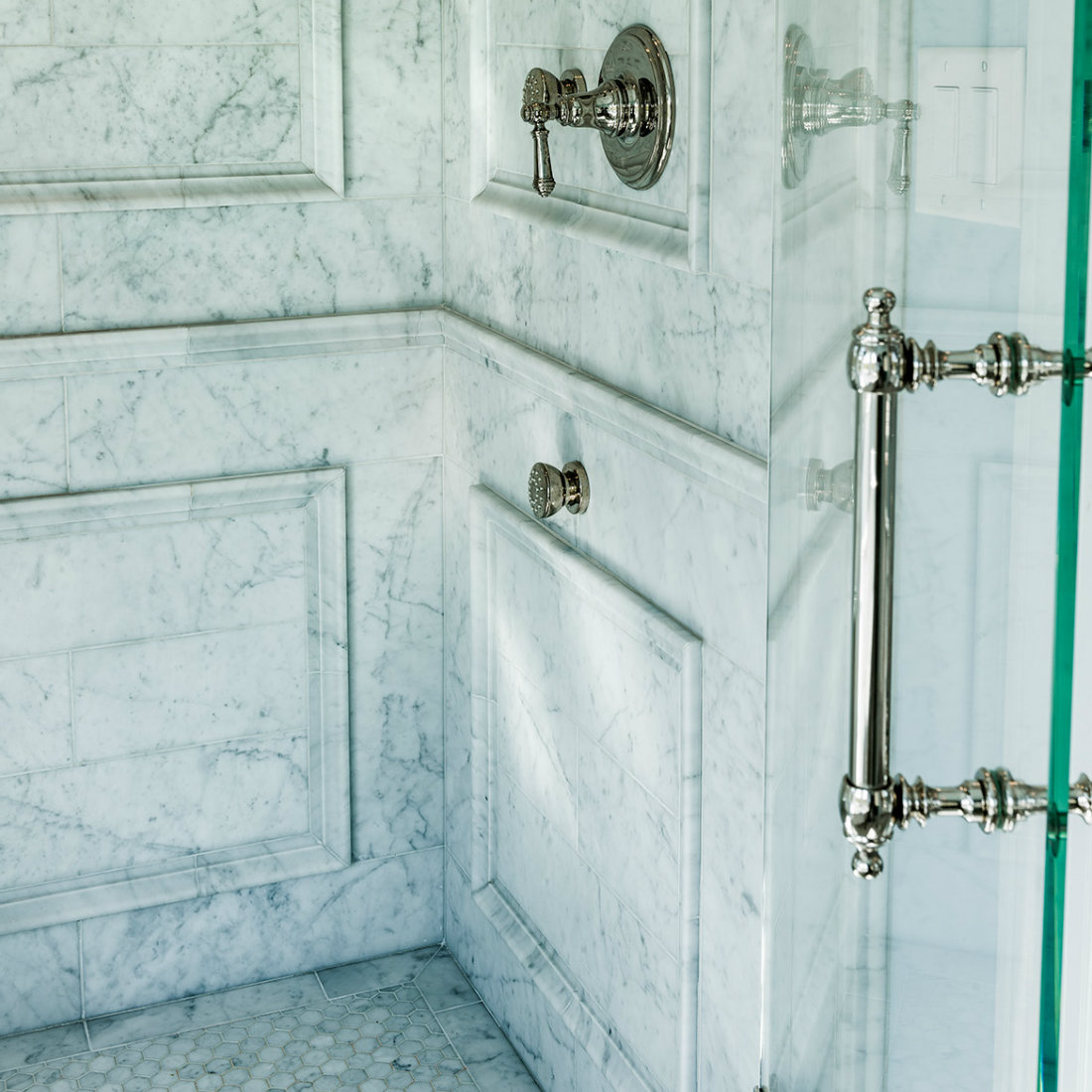 3. Consider using porcelain instead of marble.
One consideration for budgeting in a large bathroom may be to use the proliferation of beautiful new porcelain tiles that look very much like real marble these days.
It is a big cost savings on material versus using marble or real stone.
Of course, there is nothing like natural stone for beauty and uniqueness – life is short, so if you are not one to renovate your home too often you may want to just go for it if budget allows!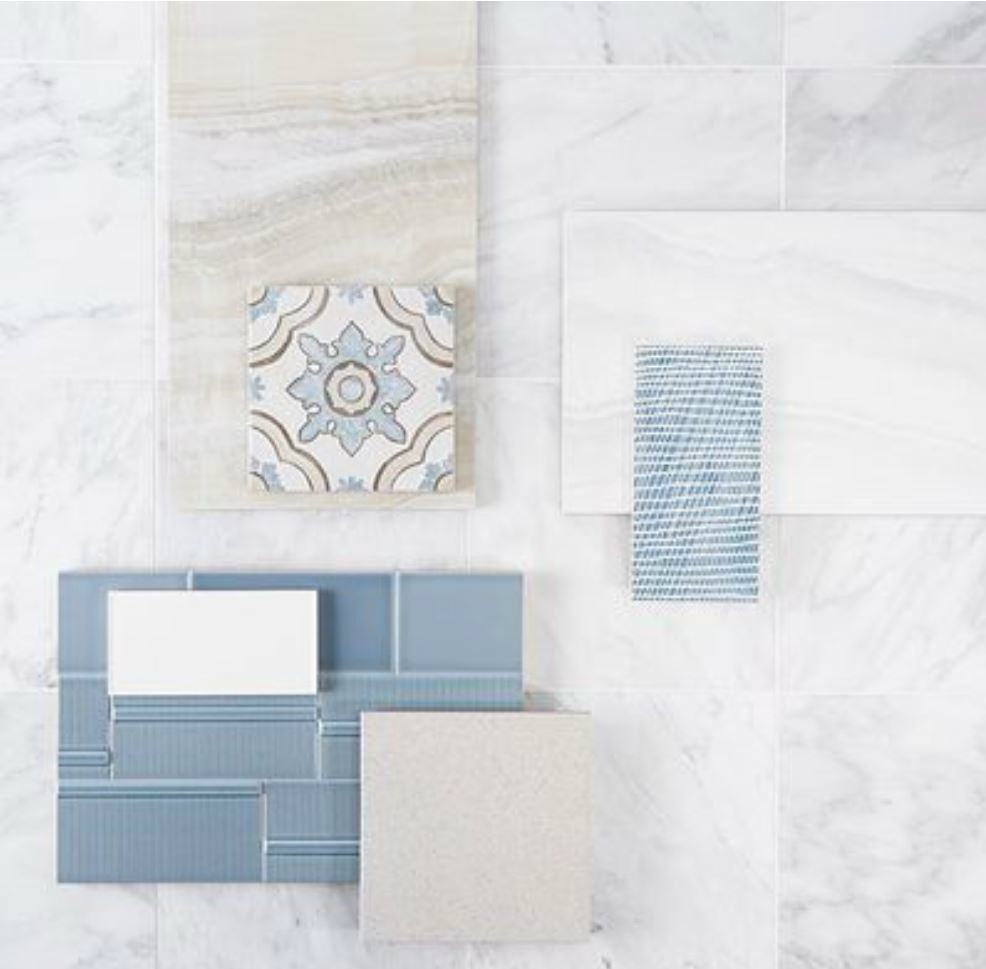 4. Remember that you can move the sink and shower.
When renovating, a lot of clients think they have to keep the sink and shower locations where they are.
It is certainly possible to move your shower or sink faucet locations fairly easily.
A trickier move is the toilet, which adds cost, but the sky is the limit if you are gutting your bathroom or looking for a completely new layout.
Depending on the size of your existing space, it's better to have it function well, and sometimes moving something just one foot can make a huge difference in function and beautiful elements.
5. Consider electrical upgrades.
Think television embedded in the mirror, medicine cabinets with outlets in them for electric toothbrushes, or a new self-cleaning Toto toilet that will require an electrical outlet.
Perhaps you would like mechanical window shades at the touch of a button (no more having to get in the bathtub to lower the shades).
And yes, we are just going to say it: a charging port next to your toilet.
Contact us to get started on your master bathroom renovation!