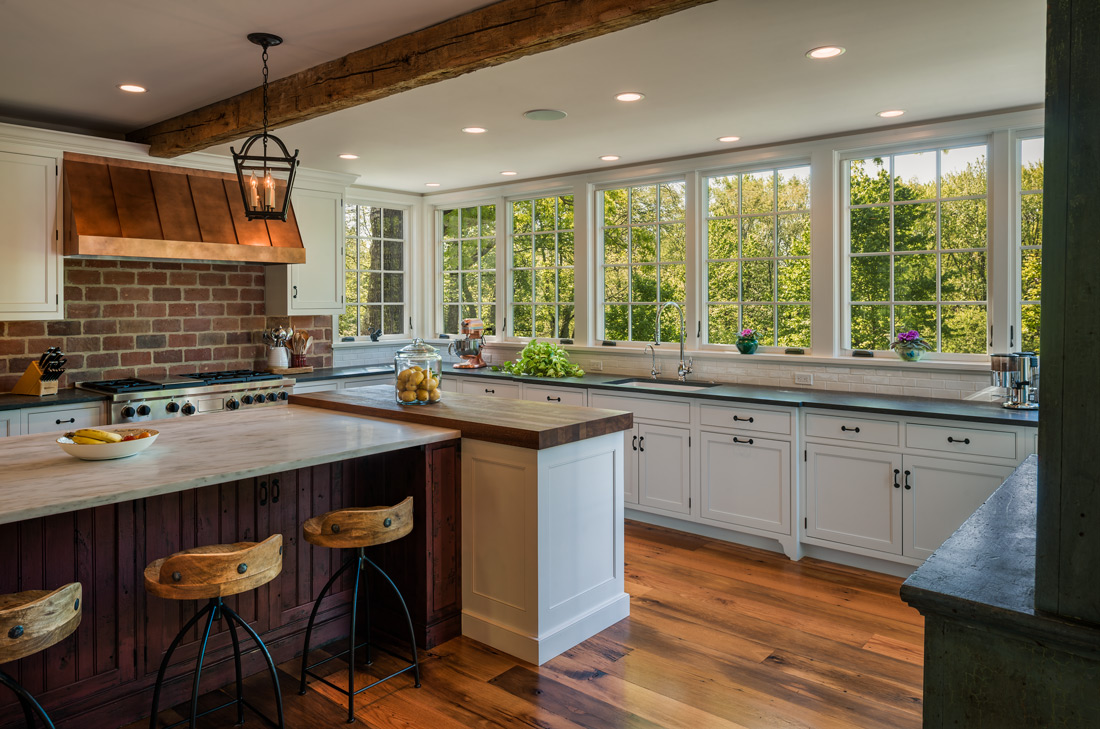 In a lot of our new kitchen projects, the countertop material is a big decision.
It can cause even our most informed, sure-headed client to question their choice at the eleventh hour. They ask "Will I regret this material? Have we explored all of our options? Am I being too safe? My friend says no one uses (fill-in-the-blank) anymore—am I doing the right thing?"
We all can lean toward what is safe or tried-and-true, all of those things that make kitchens warm and welcoming, especially in the classically-styled homes along the Main Line area and the beautiful old farms and estates in the region.
It's a big expense and a big piece of the design for the heart of the home. It must function for that family's lifestyle. A decision not to be taken lightly.
But just like the car engine rendered the horse and buggy obsolete, the super-inventive design community continues to plow forward with new technologies that push our lifestyle into the future.
Recently we saw a "new" kind of countertop material, but in this case, it wasn't that new at all…
It has been around since the 1980's. Wait…. what? Just hang in there with me.
We recently found out about a fabulous company (I might even call them alchemists or magicians) called JM Lifestyles that invented a technique that makes concrete look like actual wood.
Not fake wood, not hard-as-a-rock concrete that sort of looks like wood—real wood.
It is called Woodform Concrete® and it is pretty much the happiest thing to come out of 2020 for us. You might be saying "Whatever, concrete is a hideous idea and I would never put that anywhere near my 18th-century farmhouse!" Well, I am asking you to check out this image from one of their projects.
Can you even believe that this is concrete?! I didn't when I saw it. Check out another one here:
I am still blown away by it. They even do beautiful details like this:
COURTESY OF
JM LIFESTYLES
I know some of you are still probably saying "It looks really interesting, but it's probably cold and hard as a rock!"
Well that's what I was thinking when I saw it anyway. But I looked into it and talked to the people at JM Lifestyles.
It is actually a fiber reinforced composite of concrete and lightweight aggregate of proprietary materials that allow them to lighten the weight of it. It also creates a smooth and warm-to-the-touch material so it has the resilience of the concrete without the cold and hard stuff.
It even sounds like wood when you knock on it. People can't believe it is not wood!
It performs better in wet environments than actual concrete, is made of 50% recyclable material, and no waste is produced in the construction of it like other stone slab materials.
In fact, when I spoke to co-founder Michelle Radley (who also has a super-cute therapy dog named Bodhi), she said:
WoodForm Concrete is more durable and sustainable than any other surfacing. We are excited to offer such a unique, beautiful and environmentally responsible alternative!

Michelle Radley / Co-founder, JM Lifestyles
If you have ever built a home, you know beauty and quality don't come cheap. The material typically starts at around $230 a square foot which is comparable to butcher block material but the possibilities are almost endless with this material.
People are usually scared of something new. Then again, you aren't heading out to buy a horse and buggy anytime soon are you?
Contact us to learn about how we can use Woodform Concrete® for the next project you are considering!