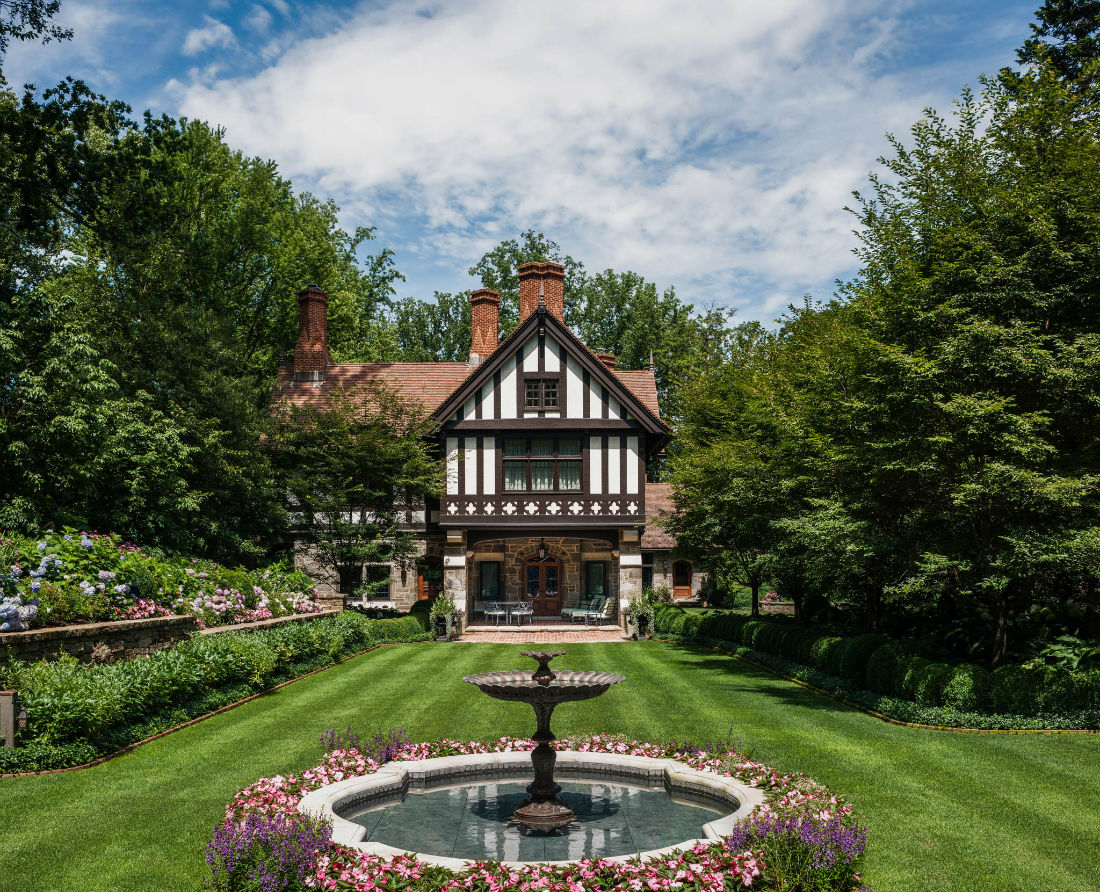 Perhaps you decided to take over your parents' or grandparents' beautiful old home…
…or your in-laws'– yikes! No pressure there! Perhaps you decided to finally build your dream home that embodies the classic, Philadelphia Main Line manor home architecture style or a rambling farmhouse that would make Martha Stewart approve.
It's so exciting! And daunting! Your Pinterest board is full of things you love – color, patterns, architectural details… what is the right choice for your "new" old house?
This article is not a synopsis of every architectural style of the Main Line that ever was.
There plenty of books out there on that subject.  This one is great for the historian in you!
This article is to hopefully free you from some of the worry in deciding certain aspects of your home where you may be concerned about being trendy, or wanting to feel updated but still relate to the architectural style in which it is built. (Spoiler alert, rules are made to be broken!)
When these old, or even "new old" houses were being built in our region, they came in all styles.
Tudor Revival, Dutch Colonial, Georgian, Federal, Neoclassic – they were all coming from what would be considered "Exotic" inspiration around the globe. The interiors were not always showy, but had a quiet elegance and a sense of order that made a home comfortable.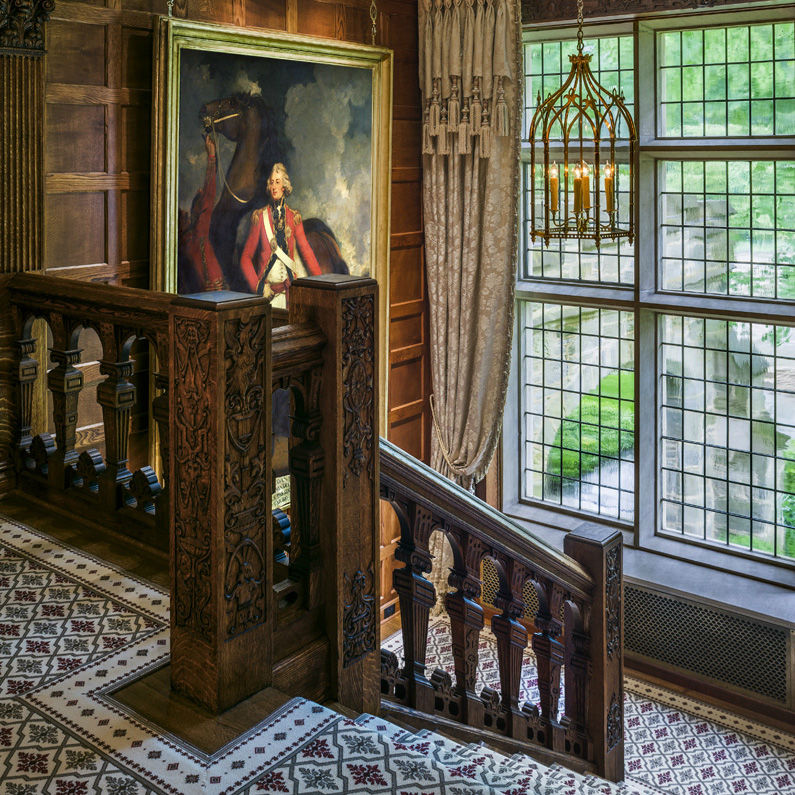 If you are on the Marie Kondo train like we are, you know there is a psychology of order in eliminating clutter and chaos (an interior designer's dream!)
A classic home has furniture masterfully arranged. Architects of the day designed homes with the "perfect" furniture plan in mind. Today, we can break the rules, but one thing hasn't changed – we need to listen to what the room wants to be.
In our case, we have to listen to what the client needs it to be and our job is to translate that into a "system."
We use scale, proportion, color and texture to orchestrate that need that each client has for each room to work for today's lifestyles. Magazine images are great, but if it doesn't serve a family's needs, what good is that?
The colors and textiles in this room were made to hold up to the family dog. Although, let's be honest, the humans are usually harder on surfaces than our furry friends.
Did you notice that the woodwork in that photo is not "white"?
The colors of the other elements in the room dictated that choice – the rugs, the fabrics the client was drawn to, and the farmhouse style of the architecture.
They wanted it to be warm and inviting, and sometimes white just doesn't translate, especially when you want to add some age to the overall look.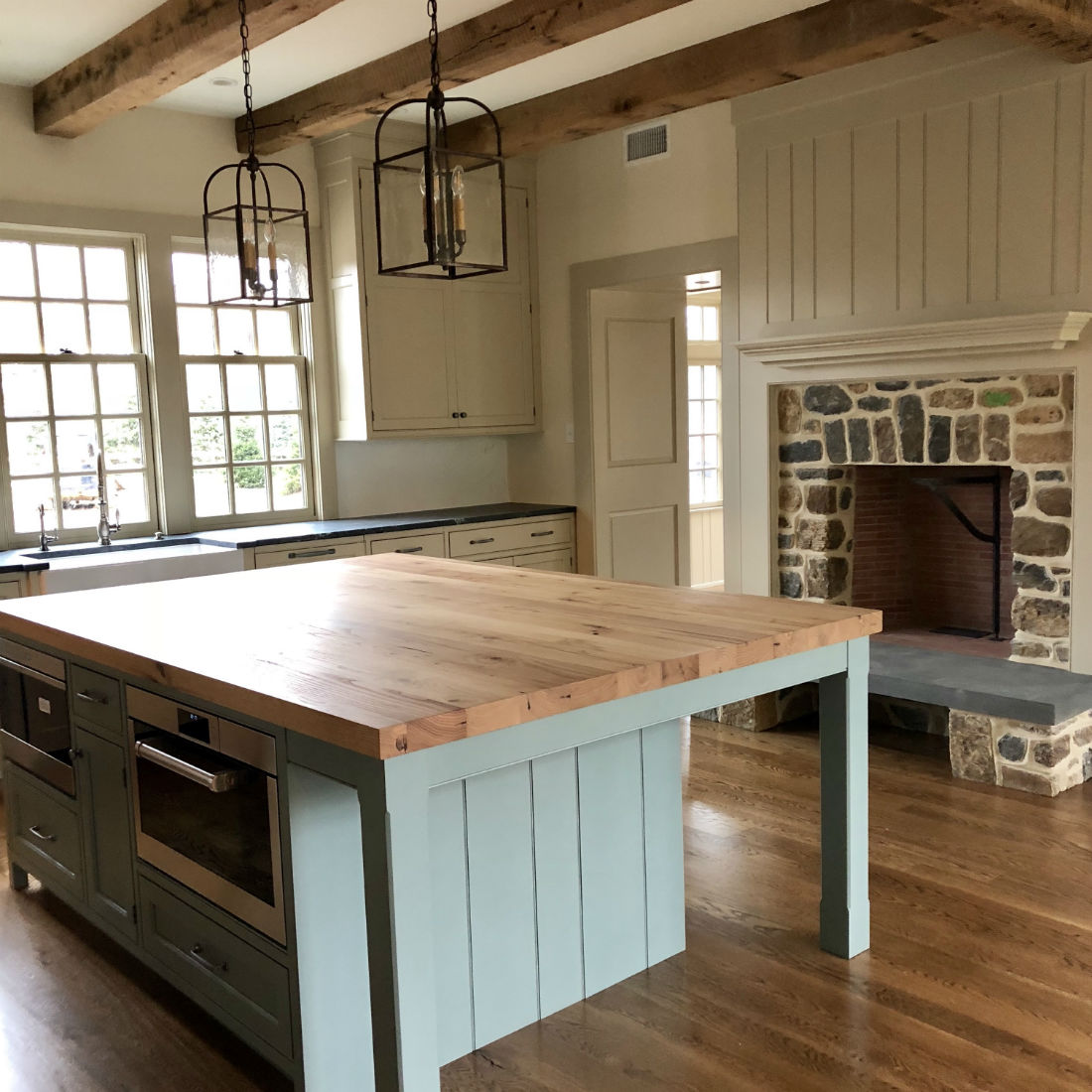 The above image is the kitchen under construction from that same house.
Bright white paint would have been way too harsh for these elements, not to mention the color of the stone and mortar surrounding the fireplace. Our friends at Period Architecture designed this amazing house with us.
The intention was to bring lots of historic Pennsylvania Farmhouse aspects to the architecture, but it has tons of hidden technology and updates throughout to keep things modernized, but it feels timeless!
Too many people fight against the architecture of a room instead of using it as a guide.
Where is the fireplace? How can seating be in better relation to it? How can the furniture arrangement invite entry? How can I accomodate more people in the room?  How can we get more lighting? Where can people put their drink?
The architecture will tell you.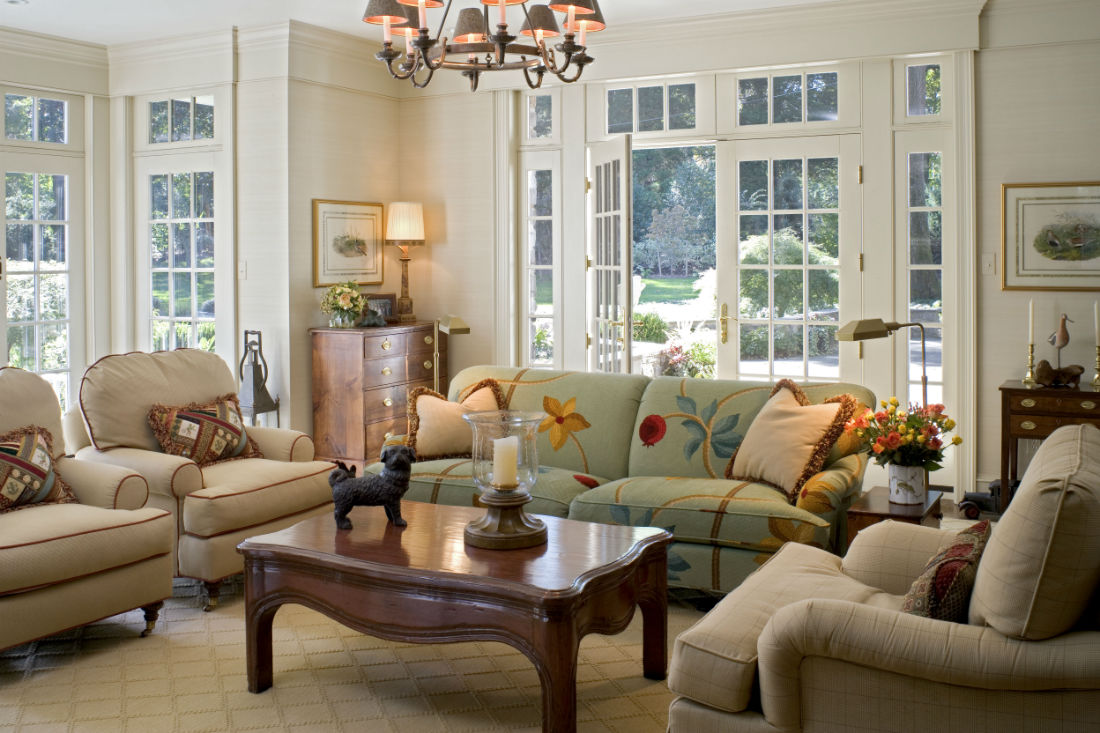 Notice this sofa above not only has a bold choice of fabric (it's not super serious, it brings in color, and it hides dirt!) but it is also placed in front of a pair of French doors.
There is plenty of room behind it to get outside to the gorgeous gardens but it is positioned to be part of the conversation. The spacing invites entry into the furniture grouping, and, most importantly for today's living, it faces the television on the opposite wall.
This is a sensitive addition to a formal Georgian style home, but is open to the family's kitchen so it fits all kinds of modern-living needs while suiting the history of the home.
Many modern designers (way more modern than us) like to create tension with disparate and contrasting elements.
There is a place for that – it goes back to the client's dream. 
Check out this modern dining room chandelier above, surrounded by formal, classical moldings, but modernized and glammed up by the textural metallic cork wallcovering in the panels and the sumptuous but sleek furniture in the room.
Our goal is to make a room feel good, not shocking. Pretty, not intense. Inviting, not chilly. Pairs create symmetry and symmetry creates order (did I mention we like Marie Kondo??)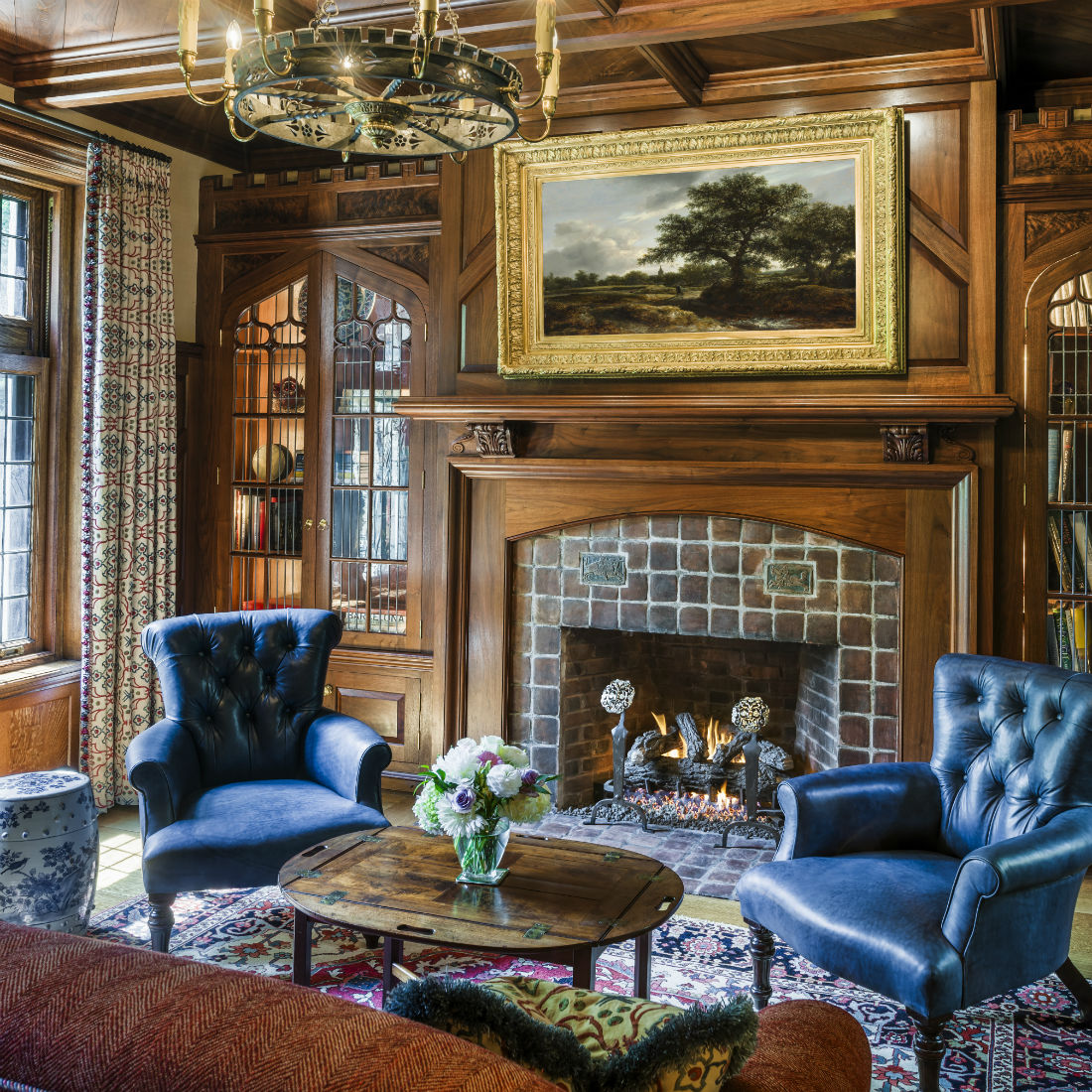 The overall message here is that Pinterest is great and you should collect as many images as you can that really, truly speak to you when considering how to craft your dream home.
However, remember to use the architecture of your house and how that relates to those images, as well as the colors you love, to dictate how you translate those images into reality in your space.
If you love the color blue, always have, and always will, don't be afraid to paint a room in your house a beautiful deep blue color since you will most likely never tire of it.
Take some risks but use your architecture to dictate those decisions.
This skill has been honed over our 20 years of design and we strive to make our rooms feel classic and enduring, to stand the test of time, like the best of the Philadelphia Main Line Architecture. Contact us to learn more about how we can help you design your dream home!